Dear Future Business Owner,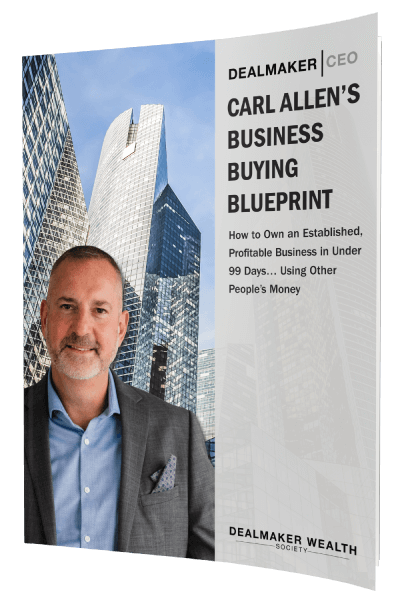 If you want to own a profitable business earning $10,000–$25,000 a MONTH in profits while requiring less than ten hours per week of your time…
But you DON'T want to put in years of hard work or put your personal savings at risk by starting your own business from scratch…
Then Carl Allen's Business Buying Blueprint will be the most important document you ever read.
Here's why:
Carl Allen, former Wall Street dealmaker with 27 years of dealmaking experience reportedly over $47 BILLION in deals to his name, has generously agreed to give away his Business Buying Blueprint – which details his 10-step, zero-down business buying system.
Carl developed this proven zero-down business buying system over three decades…
And it's what he's used personally – and still uses everyday – to buy established, profitable businesses using none of his own money.
Best of all, ANYONE can use this system.
You DON'T need business-buying experience to buy a business using none of your own money…
You DON'T need to have lots of free time (just 4-6 hours a week)…
And you DON'T need to have millions of dollars in the bank.
All you need is a basic understanding of how business works, and the ability to follow a proven system.
Right NOW is the perfect time to buy a business.
More than 10,000 baby boomers are retiring EVERY DAY… and many of them own businesses.
Because of this, the supply of available businesses greatly outweighs the demand…
Which means businesses are selling CHEAP.
When you claim (and read) your copy of Carl Allen's Business Buying Blueprint today, you'll discover…
The little-known financing strategy that makes zero-down deals possible. (This strategy makes it EASY to buy profitable businesses with $1 million to $5 million in annual revenue using none of your own money.) (Page 3)
The three types of highly motivated sellers who will happily hand over their business to someone who's never owned one (and why they're glad to do it!). (Page 7)
How to tell the difference between a "gold mine" and a "money pit." (If the business doesn't meet THESE 10 criteria, just walk away.) (Page 9)
… and much more!
Remember, Carl Allen's Business Buying Blueprint is FREE – no strings attached.
To claim your copy, enter your best email address in the box below NOW…
Then click the button that says "YES! Send Me My FREE Business Buying Blueprint Now!"
The Briefing will hit your inbox within two minutes.
I'll also throw in a free subscription to my daily e-letter, Confessions of a Dealmaker.
Regards,

Adam Markley
Publisher, Unconventional Wealth
April 2020
Enter Your Email Below to
Claim Your Free Copy